3DGence INDUSTRY F350
Art. Nr.: 3DG-F350
Regular price
€0,00
/
Tax included.
---
Low stock - 5 items left

Inventory on the way
3DGence INDUSTRY F350 3D printer
High performance 3D printer - developed according to the Industry 4.0 concept
With the INDUSTRY F350, 3DGence closes the gap between the F340 and F421 3D printers. A powerful, versatile and innovative 3D printing system that conforms to the Industry 4.0 concept. The 3DGence INDUSTRY F350 delivers high-speed 3D printing and precise prototyping for fast and reliable results.
It's a prototyping workhorse that prints fully functional prototypes using a variety of materials. The 3D printer is optimized to get the best result in engineering materials and composites.
Key Features:
Velocity - Accurate and rigid kinematic system
Modular printing system - wide range of materials

Ultra polymers (PEEK), technical grades (PC)

Printing composites

Soluble materials - carrier materials made of ESM 10, complex geometries
3DGence CLOUD - complete process control and monitoring

Built-in SMM system for material detection

Industrial Grade Accessories - Air Filter, Signal Tower and Backup Power Supply - SECURITY
The 3DGence INDUSTRY F350 is a dual extruder 3D printer for industrial applications where accuracy, speed, convenience and safety of the entire 3D printing process are crucial. 3DGence INDUSTRY F350 is also suitable for working with a variety of engineered materials including high performance thermoplastics.
| | |
| --- | --- |
| SPECIFICATIONS _ | |
| Installation space (W × D × H) | 340×340×350mm |
| pressure nozzles | 2 per module |
| Hot end temp. (max) | 500°C |
| Build platform temp. (max) | 160°C |
| Installation space temp. (max) | 130°C |
| Filament chamber temp. (max) | 50°C |
| software | 3DGence SLICER 4.0 |
speed and precision
process speed
≤ 1m/s
print speed
≤ 400mm/s
A key aspect of 3DGence's new industry platform is the high focus on speed.
The implementation of a number of innovative solutions has significantly increased the performance of the platform. This makes F350 not only an excellent rapid prototyping tool, but also a full-fledged additive manufacturing system.
Thanks to the newly developed kinematic system, which uses closed-loop coded stepper motors for X, Y and Z actuation, it is possible to achieve high traversing and printing speeds while maintaining high print quality. Running in closed loop means the system can monitor its current position and correct itself if an error is detected.
Switch modules and use a 3D printer for all jobs
The modular system used in the 3DGence INDUSTRY F350 is a practical and cost-effective solution. 3DGence INDUSTRY F420 with its modular system is unique in the industrial 3D printer segment.
The ability to use three different modules in one 3D printer allows you to create repeatable models from a wide variety of filaments. Each module is adapted to a specific material group in order to optimize the printing process. The internal module memory saves time for calibration. All modules are also equipped with two hotends and an inactive nozzle lift system.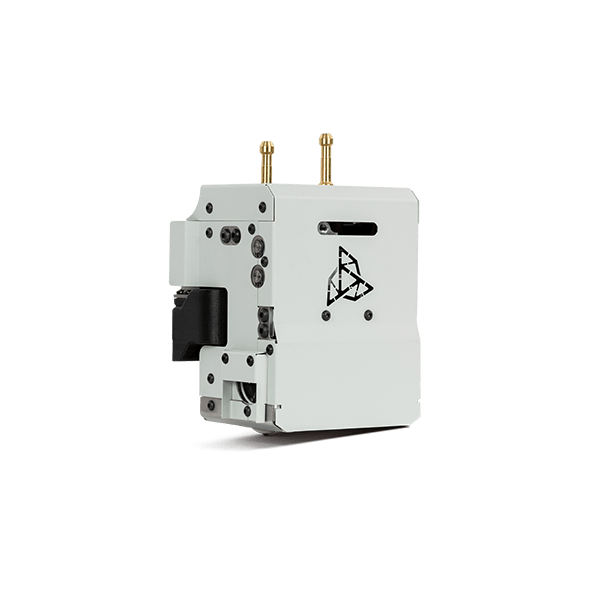 Basic print module for 3DGence INDUSTRY F350, which allows to print the standard polymers, such as PLA, ABS, ASA, PA6/69, etc. The M280 module can also print soluble support structures from ESM-10
dual extruder

Predefined profiles for a variety of materials




Soluble support material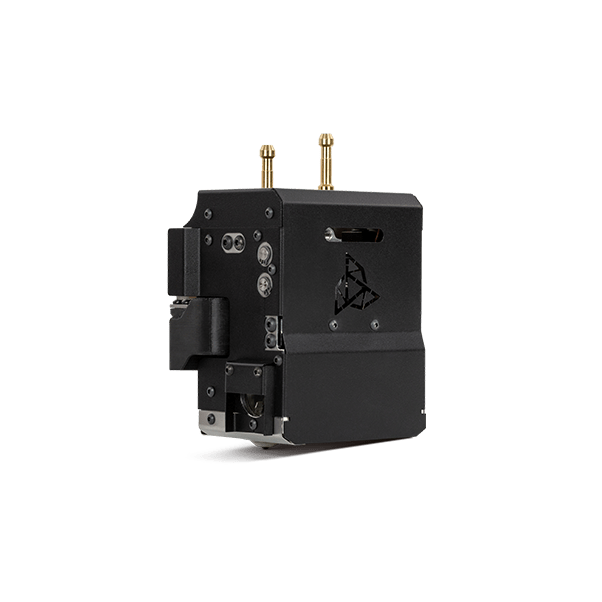 M360 is a high-temperature INDUSTRY F350 module that allows users to print the models from engineering materials such as PC.
dual extruder

High-strength PC models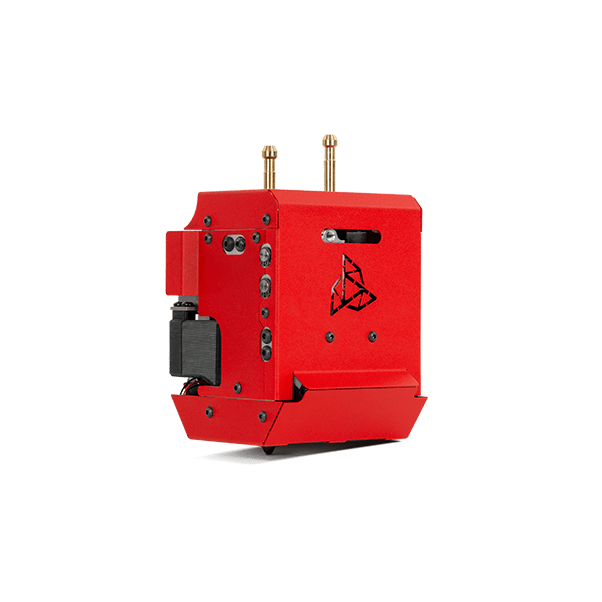 M500 is one of the interchangeable INDUSTRY F350 modules which can reach extrusion temperature up to 500℃. This high temperature combined with the printer's heated chamber enables high-performance polymers such as PEEK to be printed. The M500 module can also print PEEK on the ESM-10 soluble carrier .
dual extruder
PEEK - High Performance Polymers
ESM-10 - Soluble Support Material
| | | | |
| --- | --- | --- | --- |
|   | M280 | M360 | M500 |
| printing temperature | Up to 280°C | Up to 360°C | Up to 500°C |
| nozzle diameter | 0.5 / 0.5mm | 0.4 / 0.4mm | 0.4 / 0.4mm |
| model materials | ABS, ASA, PLA, PA6/69 | personal computer | PEEK |
| supporting materials | HIPS (breakaway) ESM-10 (soluble) | ESM-10 (soluble) | ESM-10 (soluble) |
Large heatable space
F350 is equipped with an actively heated build chamber that can reach 130°C.
The combination of heated build space and heated material chamber ensures that the prints made from high-performance polymers such as PC or PEEK are always of the best possible quality. The build chamber, heated to 130°C, allows for the printing of PC blends or polycarbonate copolymers to ensure that the expected nominal mechanical properties are achieved without warping or other print failures. There is also a jet intake sector housed in the chamber.
Smart Materials Manager
The NFC antenna from the Smart Material Manager (SMM) is located in the material shaft. When a spool is placed in the chute, it is automatically recognized and read - no additional action is
required. The NFC system not only contains information about material weight, type and manufacturer, but can also write new data into the NFC tag.
Before each print job, available material and required material values ​​are compared. The user is informed of the possible need to load the second slot.
filtration
With the focus on high performance thermoplastics, it is becoming increasingly important to provide proper emission control. F350 filters offer unparalleled filter efficiency among the FFF AM platforms .
F350 uses an advanced ULT filter unit capable of filtering the following particles:
macro dust

Nanodust (VOC, UFP)

solvent

vapor (harmful gases)

foreign particles
The system was specially developed for additive manufacturing purposes and is based on existing solutions for SLS technologies and welding.
The unit has a 3-stage filter system and communication module that helps to use the control filter based on the pressure difference.
The 3-stage filter system consists of the following units:
Z-section perforated mat as pre-filter in G4 standard

H13 standard HEPA filter of filter efficiency of > 99.95%

activated carbon cartridge
Security
An electronic lock of the main chamber door, which can also be controlled via cloud service and printer interfaces.

Sensors for the main chamber door and the top access door

Redundancy for thermal sensors of high power heating elements

Emergency switch - instant power off and thermal control system
Logic emergency shutdown system

Software access overdrive - the printer can be shut down remotely

.
UPS and Signal Tower
F350 can be equipped with a UPS unit.
The printer supports all functions during short power failures. The UPS is integrated into the system at a deeper level and monitors the battery life of the UPS. If the power outage is longer, the printer will go into idle support mode. The printing process is halted and only the most important thermal control and logic functions remain. If power is restored, printing will resume normally. This dual approach can produce two outcomes:
Unaffected printer performance during brief power outages

longer battery life with longer power problems
In addition, as an accessory, 3DGence INDUSTRY F420 can be equipped with the signal tower showing the status of the print. The signal tower makes the machine easily visible from distant parts of the production facility.
Remote Print Start, Cancel, and Pending

. Full control over job and execution, even on multiple printers.
Real-time monitoring of aggregation of machine and print status and display of access module for machine and material consumption statistics;
3DGence support team can access, diagnose and provide help remotely for file sharing and storage access control as well as for managing marketing functions.
Live camera feed
Asymmetric encryption for data transmission (RSA)
Scope of delivery and additional options
WHAT'S INCLUDED?
3DGence INDUSTRY F350 3D printer

Accessory set (Wi-Fi module incl.)

Emergency stop button
WHAT IS THE ADDITIONAL EQUIPMENT?
The M280 dual extruder print module (+1 spool ABS, +1 spool ESM-10)

The M360 dual extruder print engine (+1 spool PC, +1 spool ESM-10

)

The M500 dual extruder print module (+1 spool PEEK, +1 spool ESM-10)

UPS - emergency power supply

Advanced filter unit

signal tower
--
36-month manufacturer's warranty for uninterrupted and fast production.
Press:
Environmental conditions:
Printing technology:
FFF Fused Filament Fabrication
working temperature:
18-30°C
build chamber:
340×340×350mm
storage temperature:
-20 - 54°C
build volume:
40,460cc
Energy requirement:
min. layer height:
50 µm
Power requirement:
- 230V 1ph 16A, CEE 7/7 plug
- 2 x 120V 180° interfacial, NEMA
6I-20P 20A plug (USA)
Number of printheads:
2, flushing system
Max. Input:
3300W
nozzle diameter:
0.5/0.5mm or 0.4/0.4mm
Average power consumption:
1500W
Filament diameter:
1.75mm
Communication:
Ethernet, Wi-Fi, USB drive
Printhead temperature:
500°C
Software:
Build Plate Temperature:
160ºC
Slicing Software:
3DGence SLICER 4.0
Chamber Temperature:
130 ° C (active heating)
Cloud-based services:
3DGence CLOUD
Filament chamber temperature:
50ºC
Security:
Speed:
Filtering:
Advanced sensors of the filter unit
travel speed:
1000mm/s
Installation space lock, heat sensors, emergency switch
Print speed:
up to 400mm/s
UPS device:
yes, optional
Construction:
Other:
Software Access Overdrive - Remote Shutdown
Chassis:
steel
Dimensions & Weight:
Outside:

Steel, chamber lined with stainless steel

External dimension:
1825x960x940mm
build platform:
Borosilicate Glass / Magnetic Building Boards
Weight:
335kg

Positioning resolution XY:

0.006mm
Positioning resolution Z:
0.0007mm