3DGence INDUSTRY F421
Art. Nr.: 3DG-F421
Regular price
€0,00
/
Tax included.
---
Low stock - 5 items left

Inventory on the way
3DGence INDUSTRY F421 3D printer
Industrial high-performance 3D printer - best in its class
The new 3DGence INDUSTRY F421 is a high-speed 3D printer, developed according to the Industry 4.0 concept, which can print high-performance polymers such as ULTEM™, PEEK and PEKK - certified by TÜV Rheinland.
The highest quality, dimensional accuracy and repeatable results are within your reach. This industrial 3D printer meets all expectations of a production system and convinces with its high-quality and solid workmanship. The new Industry F421 is best in class in terms of total cost of ownership, and a modular printing system offers you maximum flexibility for your applications.
Powerful and fully-fledged manufacturing system for:
PRODUCTION
FAST | SAFE | RELIABLE | COST EFFICIENT
Produce faster and from materials used in industry
cheaper. Prepare spare or finished parts.
Durable and accurate manufacturing of end parts. Stack printing with large construction volume. Cost reduction through high printing speed and short downtimes.
PROTOTYPING
VERSATILE | PRECISE | SPACIOUS | TIED TOGETHER
Accelerate your product development and shorten your time to market by replacing your traditional prototyping process with 3D printing. By using a 3D printer in the company, the prototyping time can be significantly reduced.
A head start over the competition with high-performance materials. Complex prototypes with soluble carriers and large construction volume. Controlled environment in a high temperature chamber.
Key Features:
Interchangeable pressure modules - wide use of technical materials.
High temperature pressure chamber - precise and durable parts.
PEEK and ULTEM 3D printing - the best performing polymers.
Variety of materials - PLA, ABS, ABS-ESD, ASA, PA6, PA-CF, LEXAN,
PC, PC-ABS, PEKK-CF, ULTEM 9085, PEEK,
PEKK, VICTREX AM™ 200
Soluble Materials - ESM-10 support structures.
High quality components - special electronics, fast and rigid kinematic system, robust design.
3DGence CLOUD - remote control and monitoring for printing processes.
Air Cleaner, Signal Tower and Backup Power Supply - Operator Safety and Industry Standards.
Dual Extruder 3D Printer - for industrial applications where accuracy, speed, convenience and safety of the entire 3D printing process are critical.
| | |
| --- | --- |
| SPECIFICATIONS _ | |
| Installation space (W × D × H) | 380×380×420mm |
| pressure nozzles | 2 per module |
| Hot end temp. (max) | 500°C |
| Build platform temp. (max) | 180°C |
| Installation space temp. (max) | 180°C |
| Filament chamber temp. (max) | 50°C |
| software | 3DGence SLICER 4.0 |
Particularities:
speed

Modular printing system

Ultra polymers (ULTEM, PEEK, PEKK)

build volume

Best-in-class total cost of ownership

3DGence CLOUD

Brand new kinematic system

Built-in SMM system for material detection

Special building boards
speed and precision
A key aspect of 3DGence's new industry platform is the high focus on speed.
process speed
≤ 1m/s
print speed
≤ 400mm/s
The implementation of a number of innovative solutions has significantly increased the performance of the platform. This makes F421 not only an excellent rapid prototyping tool, but also a full-fledged additive manufacturing system.
Thanks to the newly developed kinematic system, which uses closed-loop coded stepper motors for X, Y and Z actuation, it is possible to achieve high traversing and printing speeds while maintaining high print quality. Running in closed loop means the system can monitor its current position and correct itself if an error is detected.
Switch modules and use a 3D printer for all jobs
The modular system used in the 3DGence INDUSTRY F421 is a practical and cost-effective solution. 3DGence INDUSTRY F421 with its modular system is unique in the industrial 3D printer segment.
The ability to use three different modules in one 3D printer allows you to create repeatable models from a wide variety of filaments. Each module is adapted to a specific material group in order to optimize the printing process. The internal module memory saves time for calibration. All modules are also equipped with two hotends ( dual extruder ) and an inactive nozzle lifting system.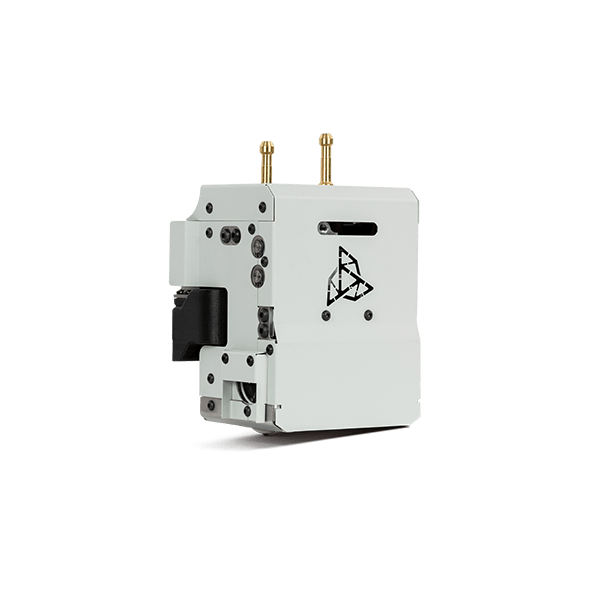 Basic print module for 3DGence INDUSTRY F421, which allows to print the standard polymers, such as PLA, ABS, ABS-ESD, ASA, PA6 and PA-CF. The M280 module can also print soluble support structures from ESM-10.
| | |
| --- | --- |
| Working temperature of the printing module | up to 280°C |
| nozzle diameter | 0.5mm/0.5mm |
| printing material | PLA, ABS, ABS-ESD, ASA, PA6, PA-CF |
| support material | ESM-10, HIPS |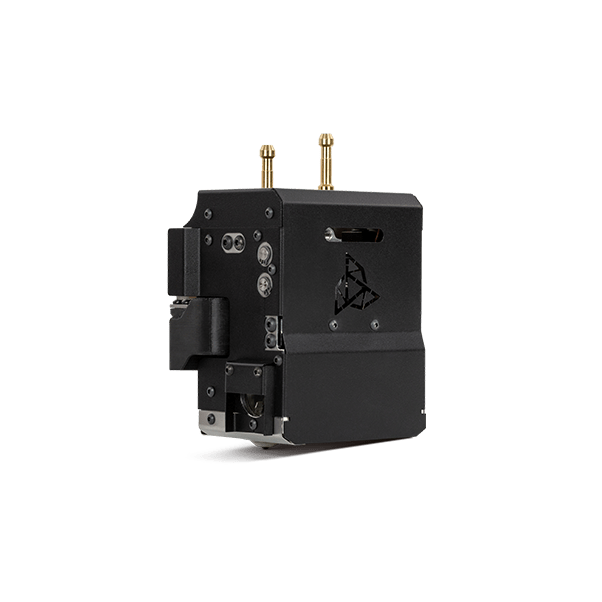 M360 is a high temperature INDUSTRY F421 module that allows the user to print the models from ULTEM™ - high performance polymer with very good mechanical properties and high temperatures. M360 can also print engineering materials such as PC.
Working temperature of the printing module
up to 360°C
nozzle diameter
0.4mm/0.4mm
printing material
LEXAN, PC, PC-ABS, PEKK-CF,
ULTEM 9085
support material
ESM-10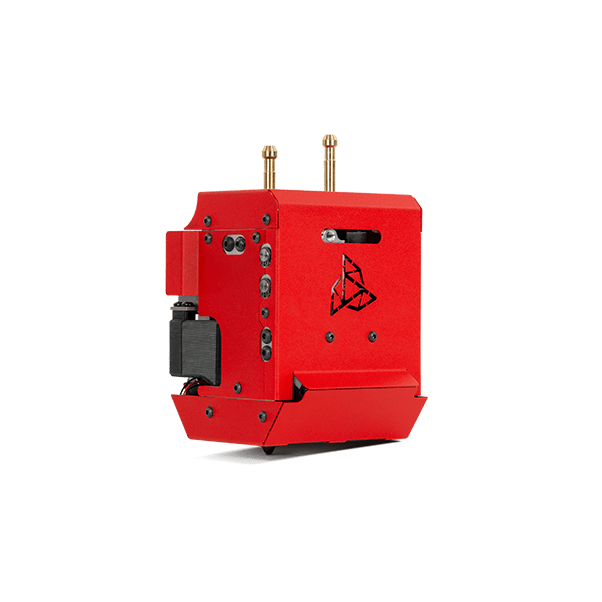 M500 is one of the interchangeable INDUSTRY F421 modules which can reach extrusion temperature up to 500℃. This high temperature combined with the printer's heated chamber enables high performance polymers such as PEEK or PEKK to be printed. The M500 module can print PEEK and PEKK on the ESM-10 soluble carrier .
| | |
| --- | --- |
| Working temperature of the printing module | up to 500°C |
| nozzle diameter | 0.4mm/0.4mm |
| printing material | PEEK, PEKK, VICTREX AM™ 200 |
| support material | ESM-10 |
dual extruder
PEEK and PEKK - High Performance Polymers
ESM-10 - Soluble Support Material
Comparison table of modules
 
M280
M360
M500
printing temperature
Up to 280°C
Up to 360°C
Up to 500°C
nozzle diameter
0.5 / 0.5mm
0.4 / 0.4mm
0.4 / 0.4mm
model materials
PLA, ABS, ABS-ESD, ASA, PA6, PA-CF
LEXAN, PC, PC-ABS, PEKK-CF,
ULTEM 9085
PEEK, PEKK, VICTREX AM™ 200
supporting materials
HIPS (breakaway) ESM-10 (soluble)
ESM-10 (soluble)
ESM-10 (soluble)

Smart Materials Manager
The NFC antenna from the Smart Material Manager (SMM) is located in the material shaft. When a spool is placed in the chute, it is automatically recognized and read - no additional action is
required. The NFC system not only contains information about material weight, type and manufacturer, but can also write new data into the NFC tag.
Before each print job, available material and required material values ​​are compared. The user is informed of the possible need to load the second slot.
Large heatable space
The 3DGence INDUSTRY F421 is equipped with a powerful actively heated build chamber that can reach 180 ° C. A patent-pending variable chamber volume solution minimizes the time required to reach working temperature. The walls of the chamber are lined with INOX steel to prevent damage and oxidation.
The combination of heated build chamber, suitable extrusion temperatures and heated material chamber ensures that the prints made from high-performance polymers such as PEEK or ULTEM™ filaments are always of the best possible quality and achieve the expected nominal mechanical properties without warping or other print defects.
There is also a nozzle suction sector in the chamber. The F421 no longer relies on mechanical nozzle blocking, instead using printhead flushing. A rinsing cycle takes only 3 seconds.
build platforms
The F421 heatbed reaches 180°C and has two options:
borosilicate glass
Highly universal, mechanically resilient, simple, tool-free removal / replacement. Metal clamp sensor to detect the presence of build plates.
plastic build plate
Specific use,
very effective on certain material combinations.
Easy, tool-free vacuum removal/replacement.
The user can switch between the build plates that can be used without additional tools or modifications to the machine. A compressed air connection at the printer installation site is required for the vacuum functionality.
Automatic coil change
INDUSTRY F421 has four material bays that store four 1kg spools of material. By default, two are for model material and two for house material. When one spool runs out of material, the extruder automatically replaces it with material from another bay.
The F421 can automatically change the bobbin during the printing process. Once the end of filament has been detected, the device loads material from the second slot without user intervention and continues printing seamlessly.
Heated material chamber
Material chutes are continuously heated to 50°C. This temperature can be set via the printer interface.
With a specific coil geometry, four 2 kg coils can be installed while retaining all functions.
Security
An electronic lock of the main chamber door, which can also be controlled via cloud service and printer interfaces.

Sensors for the main chamber door and the top access door

Redundancy for thermal sensors of high power heating elements

Emergency switch - instant power off and thermal control system

Logic emergency shutdown system

Software access overdrive - the printer can be shut down remotely

.
filtration
With the focus on high performance thermoplastics, it is becoming increasingly important to provide proper emission control. F421 filters offer unparalleled filter efficiency among the FFF AM platforms .
F421 uses an advanced ULT filter unit that can filter the following particles:
macro dust

Nanodust (VOC, UFP)

solvent

vapor (harmful gases)

foreign particles
UPS and Signal Tower
The F421 can be fitted with a 72Ah UPS unit. The printer supports all functions during short power failures. The UPS is integrated into the system at a deeper level and monitors the battery life of the UPS. If the power outage is longer, the printer will go into idle support mode. The printing process is halted and only the most important thermal control and logic functions remain. If power is restored, printing will resume normally. This dual approach can produce two outcomes:
Unaffected printer performance during brief power outages

longer battery life with longer power problems
In addition, the 3DGence INDUSTRY F421 is equipped with a signal tower that shows the status of the print. The signal tower makes the machine easily visible from distant parts of the production facility.
Remote Print Start, Cancel, and Pending . Full control over job and execution, even on multiple printers.
Real-time monitoring of aggregation of machine and print status and display of access module for machine and material consumption statistics;
3DGence support team can access, diagnose and provide help remotely for file sharing and storage access control as well as for managing marketing functions.
Live Camera Feed
Asymmetric encryption for data transmission (RSA)
New motherboard
F340 was based on a proprietary controller - the Titan. With Texas Instruments drivers, it was a superior motherboard at the time of its release. With increasing performance requirements, a new controller had to be developed. The system is based on a 32-bit architecture and is highly adaptable and modular. Up to 9 stepper drivers, BLDC motors or servos can be supported.
The user interface and all user interface and cloud services are run by a coprocessor. The main CPU only focuses on machine control. These two processing units run in parallel and do not affect each other's performance. They store sufficient computing power for immediate job control.
Scope of delivery and additional options
WHAT'S INCLUDED?
3DGence INDUSTRY F421 3D printer

Accessory set (Wi-Fi module incl.)

signal tower

Emergency stop button
WHAT IS THE ADDITIONAL EQUIPMENT?
The M280 dual extruder print module (+1 spool ABS, +1 spool ESM-10)

The M360 dual extruder print engine (+1 spool PC, +1 spool ESM-10, +1 PEI heatbed)

The M500 dual extruder print module (+1 spool PEEK, +1 spool ESM-10)

UPS - emergency power supply

Extended ULT LAS 42 filter unit
--
36-month warranty from the manufacturer for uninterrupted and fast production.
Technical specifications
Press:
Environmental conditions:
Printing technology:
FFF Fused Filament Fabrication
working temperature:
18-30°C
build chamber:
380×380×420mm
storage temperature:
-20-54°C
build volume:
60,648cc
Energy requirement:
min. layer height:
50 µm
Required connection:
- 230V 1 hour with 32A (3n+p+e) IEC 60 309 plug (recommended)
- 230V 1ph 20A direct connection
Number of printheads:
2, flushing system
Max. Input:
4600W
nozzle diameter:
0.5/0.5mm or 0.4/0.4mm
Average power consumption:
1500W
Filament diameter:
1.75mm
Communication:
Ethernet, Wi-Fi, USB drive
Printhead temperature:
500ºC
Software:
Build Plate Temperature:
180℃
Slicing Software:
3DGence SLICER 4.0
Chamber Temperature:
180 °C (active heating)
Cloud-based services:
3DGence CLOUD
Filament chamber temperature:
50℃
Security:
Achievable printed part accuracy:
The parts are printed with an accuracy of 0.125 mm or 0.0014 mm/mm, whichever is greater. Z-axis accuracy includes an additional tolerance of 0.000/+ layer height.
Speed:
Filtering:
Advanced sensors of the filter unit
traversing speed:
1000mm/s
Sensors:
Installation space locking, heat sensors, emergency switches
Print speed:
up to 400mm/s
UPS backup power supply:
yes, optional
Construction:
Other:
Software access overdrive - remote shutdown
Chassis:
steel
Dimensions & Weight:
Outside:
Steel, chamber lined with satin stainless steel
External dimension:
1900x940x900mm
build platform:
Borosilicate glass / vacuum sealed plastic panels
Weight:
365kg
Positioning resolution XY:
0.006mm
Positioning resolution Z:
0.0007mm
Press:
Environmental conditions:
Printing technology:
FFF Fused Filament Fabrication
working temperature:
18-30°C
build chamber:
380×380×420mm
storage temperature:
-20-54°C
build volume:
60,648cc
Energy requirement:
min. layer height:
50 µm
Required connection:
- 230V 1 hour with 32A (3n+p+e) IEC 60 309 plug (recommended)
- 230V 1ph 20A direct connection
Number of printheads:
2, flushing system
Max. Input:
4600W
nozzle diameter:
0.5/0.5mm or 0.4/0.4mm
Average power consumption:
1500W
Filament diameter:
1.75mm
Communication:
Ethernet, Wi-Fi, USB drive
Printhead temperature:
500ºC
Software:
Build Plate Temperature:
180℃
Slicing Software:
3DGence SLICER 4.0
Chamber Temperature:
180 °C (active heating)
Cloud-based services:
3DGence CLOUD
Filament chamber temperature:
50℃
Security:
Achievable printed part accuracy:
The parts are printed with an accuracy of 0.125 mm or 0.0014 mm/mm, whichever is greater. Z-axis accuracy includes an additional tolerance of 0.000/+ layer height.
Speed:
Filtering:
Advanced sensors of the filter unit
traversing speed:
1000mm/s
Sensors:
Installation space locking, heat sensors, emergency switches
Print speed:
up to 400mm/s
UPS backup power supply:
yes, optional
Construction:
Other:
Software access overdrive - remote shutdown
Chassis:
steel
Dimensions & Weight:
Outside:
Steel, chamber lined with satin stainless steel
External dimension:
1900x940x900mm
build platform:
Borosilicate glass / vacuum sealed plastic panels
Weight:
365kg
Positioning resolution XY:
0.006mm
Positioning resolution Z:
0.0007mm